A knowledgeable partner in the payment process domain and the right technology help you to put this in place a smooth, safe procedure. The Hotel-Spider Payment Services provides both.
Payments are a tricky business. From credit card theft to inefficient processes that require guests to share their details several times, there are many opportunities for slip-ups.
But the payment process is also a chance to create a great guest experience. A smooth, safe procedure ensures that guests enjoy a streamlined booking, arrival, and departure.
A knowledgeable partner in the payment process domain and the right technology help you put this in place. The Hotel-Spider Payment Services provides both.
Let's examine how it addresses the most common challenges in the hotel payment process.
Challenge #1: Guaranteeing credit card security
Most hoteliers engage in the risky business of manually checking a credit card's validity prior to the guest's arrival. For this, credit card numbers need to be available in clear, so staff can enter them into the payment terminal. This makes them easy to steal and exposes your establishment to credit card theft. As a result, you're liable since hotels must protect their customers' sensitive data.
The Payment Card Industry Data Security-Standard (PCI-DSS) describes how a company which processes credit cards should store and protect them. This includes restricting access to card data on a need-to-know basis, similarly to top-secret files in your favorite spy thriller. However, as long as you're manually checking validity, this is impossible.
How Hotel-Spider Payment Services addresses this
Hotel-Spider Payment Services protects your hotel from falling prey to fraudulent cards and bookings in three ways.
1. Card Check: When guests share their details during the booking, Hotel-Spider books a €0.00 charge to automatically test every card. This does away with time-consuming and risky manual card checks and you immediately know when a card is refused.
2. Online Payment via Spider-Booking: This allows guests to conveniently pre-pay their stay via the Spider-Booking engine at the time of booking. The system checks the card, processes the payment and saves the card details in an encrypted format. This speeds up both the check-in and check-out process since guests don't have to share their details a second time.
3. Hotel-Spider Pre-Stay Payment: The system automatically contacts guests on your behalf. It requests them to pay for their stay before arrival to guarantee their reservation. This validation happens on a dedicated screen of the Spider-Booking web-booking engine. Even guests booking via an OTA will receive this validation request.
All three options allow your hotel to verify credit card details without them having to be available in clear. This increases your PCI-DSS security and protects you from data breaches.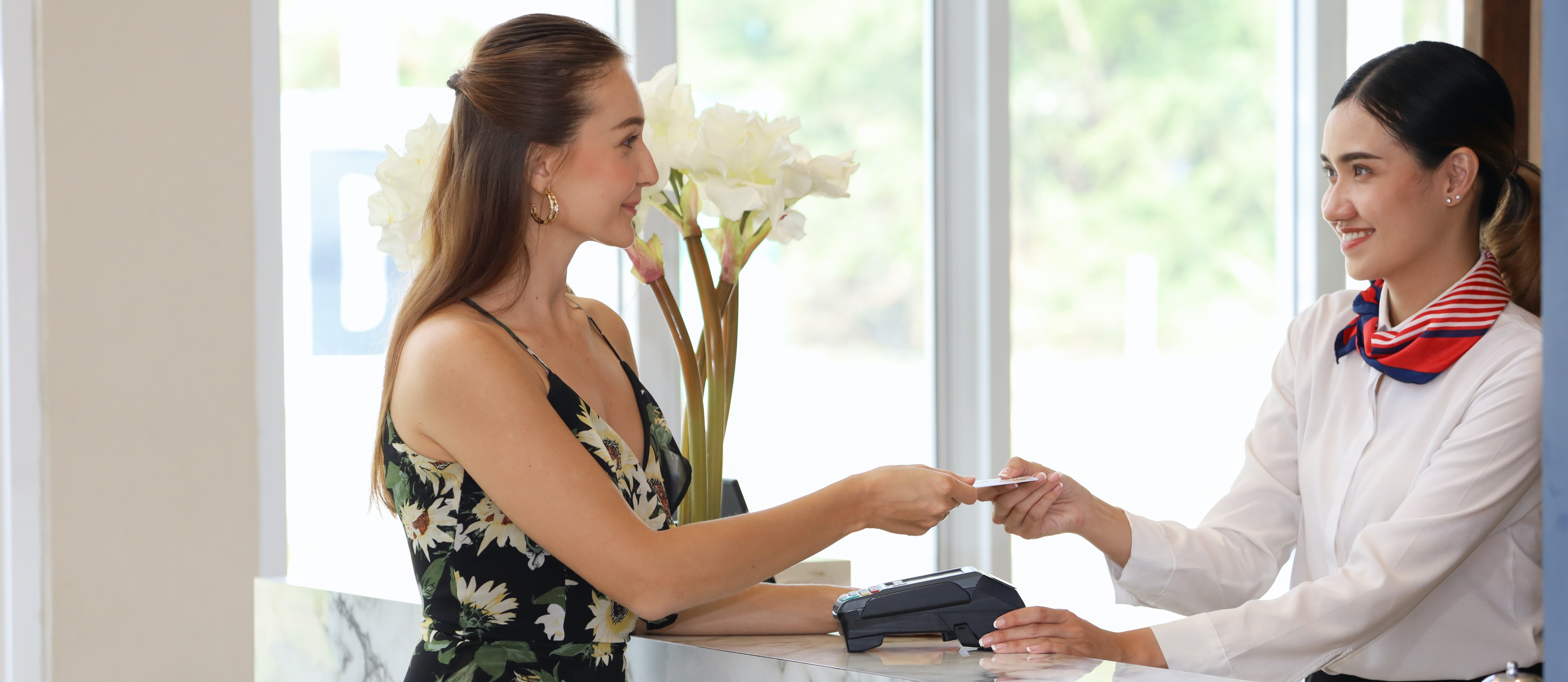 Challenge #2: Compliance with complex and frequently changing regulations
The European Union has released the second generation of its Payment Service Directive (PSD2). The most important thing about PSD2 is that your guests must expressly anthorize the hotel to access information on the credit card account via Strong Customer Authentication (SCA).
How it works:
1- Your hotel tries to access the guest's credit card
2 -The guest receives a notification asking them to…
• Confirm their identity
• Authorize the transaction
To confirm their identity, guests must be able to check two of the SCA's three basic security principles:
• Knowledge: Something only the credit card holder knows (e.g. password, PIN, etc.)
• Possession: Something only the credit card holder possesses (e.g. token, mobile phone, access card, etc.)
• Inherence: Something only the credit card holder is (e.g. fingerprint, facial recognition, etc.)
For example: a guest can enter the PIN only they know on their phone, a device only they can access.
Once a guest has authorized the hotel to access their credit card's account, a unique token is emitted as proof of this authorization. This token remains valid for a certain time before expiring.
This applies to:
• Pre-authorizing a guarantee
• Charging a non-refundable deposit
• Applying a late charge because guests left with an open folio
For now this directive only applies to travellers with a bank in the European Economic Area (European Union, Iceland, Norway, Switzerland and Liechtenstein). However, as long as travel remains restricted due to Covid-19, it will concern the vast majority of your guests.
How Hotel-Spider Payment Services addresses this
All Hotel-Spider Payment Services are already PSD2-compliant. Our solution will automatically detect if your guests need to authorize access to their credit card. If so, the system guides them through the required steps. This also eliminates all uncertainty about your future guests' solvency since the Hotel-Spider Payment Services check their cards' limits prior to their arrival.
Challenge #3: Risk throughout the entire payment process
At the time of the online booking, guests enter their credit card details into a form on your website or OTA. At this time, the credit card isn't checked. In comparison, airline websites or e-commerce platforms perform multiple fraud-detection tests to check if the card owner must perform SCA to authorize the full transaction amount.
Especially, for cards which require SCA, hoteliers can't perform any checks until the guest arrives and anthorizes the card at the payment terminal. This puts all the risk of a card not working on the hotel during the time between the booking and check-in. The risk only shifts when the guest checks in and authorizes transactions in person.
How Hotel-Spider Payment Services addresses this
Online Payment via Spider-Booking & Hotel-Spider Pre-Stay Payments drastically reduce the risk your hotel faces during the entire payment process.
The system performs multiple fraud-detection checks on each card before processing a guarantee or a booking. In line with PSD2, the system automatically requests guests to perform SCA to double-check that they've entered the credit card which they'll present upon arrival. This generates the SCA token which will shift the risk of a credit card transaction from the hotel to the guest even before they check-in.
In the case of a cancellation or a no-show, you have the PSD2 token. This allows you to charge a no-show or keep the cancellation fee and reimburse only the appropriate amount.
Hotel-Spider Payment Services protects you post-stay as well. The system securely stores both the credit card data and the SCA token until 48 hours after your guest's departure. In case of a late charge or a walk-out, we've got you covered.
Challenge #4: Convenience for hotels and guests
Manually checking cards for validity prior to arrival is a time-consuming process understaffed hotels don't have time for. It's also an error-prone approach since staff may mistype a card number which could result in the booking not being guaranteed. Finally, having to provide the same card multiple times is a nuisance for guests as well. This draws out the payment process and may dampen an otherwise wonderful experience.
How Hotel-Spider Payment Services addresses this
Hotel-Spider Payment Services offers guests the possibility to prepay their stay and complete their customer contact details. This speeds up the check-in and check-out process as all credit card-related tasks are handled pre-arrival. It also opens the door to offering a full online arrival and departure, which more travellers have come to expect over the past year.
As you can imagine, we're pretty excited about all the benefits Hotel-Spider Payment Services offers your hotel.
Do you want to address the above-mentioned challenges at your hotel?
Are you ready to up your payment process security?
And do you want to make payments smooth and seamless for your guests?
Then have a closer look at Hotel-Spider Payment Services now!
If you have questions, we're here.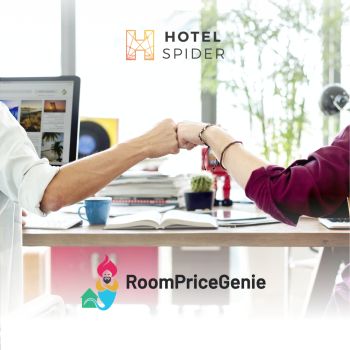 The hotel pricing tool is now completely integrated into the Hotel-Spider extranet. This way you can optimize your prices more quickly and easily for your market in order to increase your revenue.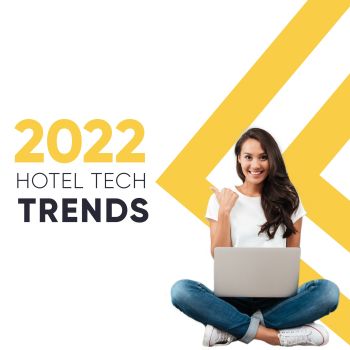 What's going to be particularly important this year launching successfully in 2022. Let's look at four trends and developments in the world of hotel technology. It's important to get to grips with them and try out new things.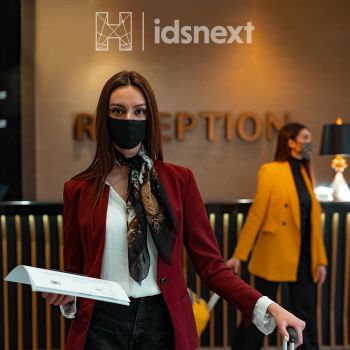 IDS PMS is designed to help manage your properties easier than ever with access to a rich array of valuable insights and powerful organisational features.