If you want to be able to better navigate the OTA jungle and find the best partners for your hotel, you've come to the right place. Learn how to find the right OTAs for your hotel and target group in three easy steps.
It's obvious that online travel agents and booking portals are a necessary part of the sales landscape for hotels.
But although they are important, there are many challenges for hoteliers when it comes to choosing and cooperating with OTAs.
If you want to be able to better navigate the OTA jungle and find the best partners for your hotel, you've come to the right place.
Because in this article, we're taking a look at what you need to consider when working with OTAs, and how to find the right channels for your hotel step-by-step.
Pros and cons of working with OTAs
According to the Phocuswright Europe Travel Market Report 2020-2024, 64% of all accommodations were booked via OTAs in 2020. These numbers show just how important OTAs have become for the hotel industry.
But even guests that don't book via online portals still use them as travel inspiration. According to studies, 75% of all guests that book directly with international chains look at hotels on OTAs first. This billboard effect explains why having a presence on top platforms has allowed many hotels to achieve greater reach, more reservations, and increased occupancy, they otherwise wouldn't have been able to achieve. This means that in addition to being an outsourced sales channel, OTAs are also a marketing channel that can bring in more direct bookings for you.
But despite their many advantages, working with some OTAs has its challenges. Commission payments between 15 and 30%, parity problems, as well as unfavorable conditions for hotels can mean that partnerships with OTAs aren't always easy.
If you're looking for the right partner, both sides can benefit from productive cooperation.

Three steps to the right OTAs
There is no clear single answer when it comes to the right number of OTA partnerships, but the saying "the more the better" is generally correct. The more you build your presence on OTAs, the more you'll benefit from the billboard effect. Plus, you strengthen your reach and increase your chances of selling your inventory. And because you only pay commission for actual reservations, just having a presence on lots of channels doesn't cost any extra.
Working with dozens of OTAs hardly costs any time, if you use the right Channel Manager. That way, you can easily send your availabilities, room prices, and special conditions to all integrated channels. Which means that hardly any manual handling is required even if you have lots of sales partners, and you can enjoy the benefits of a diverse sales strategy,
But you should still ask yourself which partnerships are actually worth it for your hotel. You can figure that out in three simple steps. First, research potential partners, test out working with them, and assess the results. Then you can optimize your online sales, and find the ideal OTA mix for your hotel.
We'll tell you exactly how to do that now.
Step 1: Create a rough list of potential partners
The first step is about identifying as many potential OTA partners as possible. There are lots of sites that might be relevant for your hotel or target groups besides top portals like Booking.com and Expedia.
Here are three important points that will help with your research.
1. Your source markets
The most popular OTAs differ from country to country and region to region Booking.com is used a lot in Europe, for example. Trip.com is the top provider in China, whereas guests in India prefer MakeMyTrip. Analyze your biggest source markets and figure out which OTAs are most popular there.
Also, take a look at where your local guests book. Are there local tourism associations or OTAs it would be worthwhile to be present on? Although their reach is often much smaller than international online travel agencies, these channels are more relevant to your source markets and can therefore bring good results.
2. Our target groups
Next, consider which target groups to address
Business travelers, families or couples? If you want to be found by travelers with children, www.Kinderhotels.com would be a good partner. Couples looking for luxurious boutique hotels, however, tend to search on prestigia.
There are also OTAs for different preferences. Do you want packages, long-term stays or short weekend getaways? Then sites like Kurz-mal-weg.de, Verwoehnwochenende.de, weekend4two.ch or similar would be good. If you get lots of last-minute reservations, it would be sensible to work with HotelTonight or lastminute.com
As you can see, there are lots of channels for different guest categories and preferences. Find all of the ones that suit your hotel and add them to your list.
3. Your USP (Unique Selling Points)
Finally, take a look to see if there are OTAs that advertise hotels with your unique selling points. mountaindeals.ch is an option for ski resorts, for example. If your property focuses on health and wellness in particular, portals like wellness-hotel.info are a good starting point.
There are also OTAs for very special niches. Properties that welcome four-legged guests can register on Hundehotel.info, for example.
These niche OTAs are often small, but distinguish themselves through their relevance to your target group. Researching these partners is worth it!

Step 2: Take a closer look at the different OTAs
Now it's time to sort them. Look at the OTAs in detail that you collected in the first step and check whether it would really be worth working with them.
Ask yourself the following questions:
How high are commission payments?
Is the OTA compatible with your Channel Manager? If not, make sure the extra work is worth the effort.
Which conditions apply, e.g. regarding rate parity, cancellations, etc.?
Is it possible to increase your visibility (programs for members)?
How is the user experience?
How difficult is it to register with this channel?
Can the OTA share figures such as average conversion rates, for example?
This information should help you to clear out any difficult OTAs, and find partners you can work with easily.
Step 3: Register with your top candidates and collect data
Once you've registered with your favorites, it's important to collect and evaluate data. This way you can recognize which partnerships get you the most.
The following points are important for this:
How many reservations are coming in?

How is it cooperating and communicating with this partner?
How often are there problems, e.g. rate parity, customer communication, etc.?

Is this OTA attracting the right target group?
It's obvious that not all partnerships run as smoothly as we would like. For example, if the number of reservations isn't worth the effort, it's often better to sign out and try out a new channel. Then it's back to gathering data to continue optimizing your OTA mix.
Yes, it's a long process, that always requires time and energy. But it's worth staying on the ball here.
If you follow the three steps mentioned above, you can look forward to higher conversion rates and more revenue in the long term. And all of it without any considerable extra effort.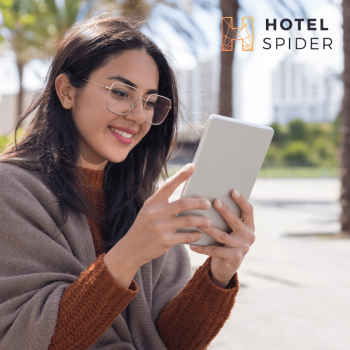 Customer service and expectations, especially in the hospitality industry, have changed significantly over time, with digital mediums enabling both customers and hoteliers to benefit.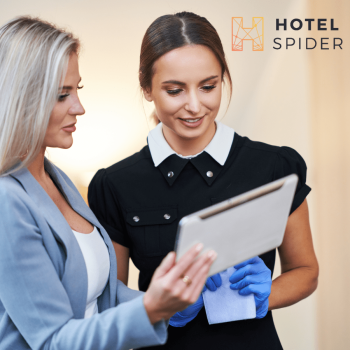 Hotel rate parity is the practice of maintaining consistent rates for the same product across all online distribution channels including brand website, global distribution, online travel agencies, and regional OTAs – regardless of Online Travel Agent (OTA) commission.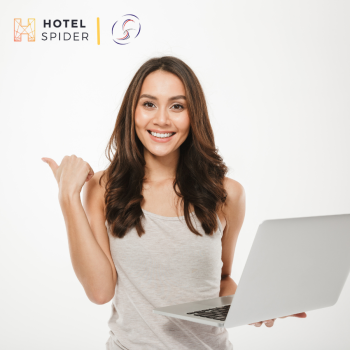 Hotel-Spider is integrating with Solutions, a local Property Management System to simplify online sales and boost presence.