Google My Business (GMB) is the heart of your presence on Google, as well as Google Maps, the world's most used search engines. Read here how to increase the visibility of your hotel with Google My Business.
Google Travel, Google Hotel Links, Google Ads, Book on Google…
With the constant expansion of its product offerings, Google has been increasingly establishing itself as a sales partner and platform for the travel industry for years.
Unfortunately, this large offering can quickly feel a bit confusing. Those who see through it, however, have a distinct advantage, as hoteliers can improve their results in online sales significantly with the help of Google.
What should you start with if you want to optimize your online presence? Let's take a closer look at Google's product range and the main starting point.
A brief overview of what Google has to offer the travel industry
Google Travel is a platform through which a complete trip can be researched and planned. Here you can search for, reserve and in some cases book transportation options such as flights and train connections as well as hotels and activities. This all-in-one offering puts Google Travel almost in competition with the OTAs.
Another benefit of Google Travel is that hotels can gain visibility here via the new, free Google Hotel Links. Via an integration with your booking engine you can even increase your chance of direct bookings.
Those who would like to further extend their reach can do so with Google Ads. Here, there are various pricing models that allow you to flexibly design your investment and adjust it according to your needs.
But before you get into all that, you need a solid foundation: a profile for your hotel on Google My Business.

What is Google My Business?
Google My Business (GMB) is the heart of your presence on Google, as well as Google Maps, the world's most used search engines. You can think of GMB as a kind of detailed online business card, where you summarize and present important facts about your company.
This allows Google to recognize your business as a hotel and display it accordingly in search results. In short: GMB has a positive impact on the search engine optimization (SEO) of your online presence. An optimized profile makes it much easier for potential guests to find you online and can lead to a significant increase in your website views. This, of course, also increases your chances of direct bookings.
The best thing about GMB is that it is free and quick to set up. All you have to do is log in to Google My Business and follow the steps provided. This includes, for example, adding relevant information about your hotel and performing verification.
7 tips to use Google My Business optimally for your hotel
Now that we have an overview of what Google and Google My Business have to offer, it's time to look at how to get the most out of GMD for your hotel.
1. Provide all details
For an easily findable profile that will help visitors and arouse interest in your hotel, the following details are imperative:
• Contact details: How can you be reached?
• Address and coordinates: How does the journey to your hotel look like?
• Facilities: What kind of amenities does your hotel offer (e.g. air conditioning, parking, fitness area ...)?
• Services: What services are available at your hotel (e.g. breakfast, airport transfer, room service ...)?
• Check-in and check-out time: From when can guests arrive and until when do they have to leave the room?
• Highlights: Choose points that set your hotel apart from other hotels to drive more relevant views.
All this can be easily entered manually or added using the selection of predefined attributes.
2. Keep information up to date
Immediately update any changes affecting your services and offerings on GMB. This can be done quickly and comfortably via the GMB app. This way you avoid unpleasant surprises for your guests. Important information to share includes a temporary closure of your spa for a remodel or a seasonal shutdown of your restaurant operations.
3. Add high quality images and/or videos
A meaningful profile picture is a must on GMB. This will attract more views (and clicks). You should also complete your profile with impressive photos of the hotel, its surroundings, rooms and other important areas (e.g., the restaurant, spa, event area, etc.). This immediately makes your hotel more attractive and helps potential guests envision how they will enjoy their stay at your place.
The good news is that you don't need new pictures for this. You can use the same ones that you have uploaded to your website and OTAs.

4. Add corona measures
As long as Corona guidelines for travel are still in effect, these will often cause confusion in travel planning due to the frequent changes. Make life easier for your guests by listing your Corona measures on your GMB profile and updating them as needed. Google has provided new attributes especially for this purpose.
Answer the following questions about this topic:
• What are the rules in your hotel?
• What evidence do guests need to bring for check-in?
• What do you do to ensure the safety of your guests and the team?
Having clear, compact information on this topic shows that you take the situation seriously. For guests who want to know more details, you can link to the relevant pages on your website.
5. Keep an eye on the FAQ section
In the FAQ section everyone can ask questions about your hotel. You or other users can answer them publicly. As it continues to grow in popularity, the FAQ section is becoming a valuable way to attract new customers.
As with ratings, quick, relevant responses make a good impression and help travelers make informed decisions.
6. Stay active and be accessible
The more active you are online, the more likely you are to be found. The same applies to your GMB profile, so you should update it regularly. This includes moderating the FAQ section, answering reviews and uploading new images from time to time (e.g. seasonal photos).
Be directly available to your guests as well by integrating your chat with Google. This allows potential guests to communicate with you directly via your GMB profile. As a result, you receive booking-relevant information even faster, which further increases your chance of getting a booking.
7. Evaluate data and optimize your profile
GMB offers interesting information that will help you optimize your profile and is also relevant for other marketing tasks. Keep an eye on this data to get answers to the following questions:
• Which search queries do your guests use?
• Do page views come from Google or Google Maps?
• What are users doing on your profile (e.g. call, click to website, view directions...)?
• How often do people look at your pictures and those of your competitors?
Attach a parameter to your website URL in your profile to further understand how many page views you get from GMB. These insights can help you further improve your profile and thus generate even more clicks and bookings.
That brings us to the end of our seven steps to help you get more out of Google My Business.
This leaves only one thing left for you to do. Go through your profile and look in detail at where there is room for improvement. Make the necessary changes and measure their impact on your page views and your direct bookings.
For the best result, of course, an optimized website and a solid booking engine are also important. You can then take these on in the next step.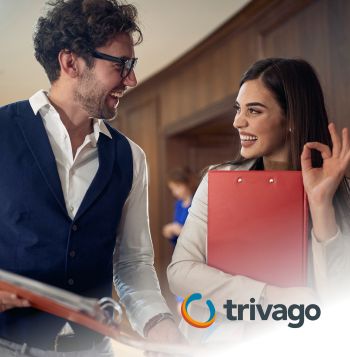 As of now, Hotel-Spider is one of the first partners to offer Trivago's new, risk-free commission model (cost per stay).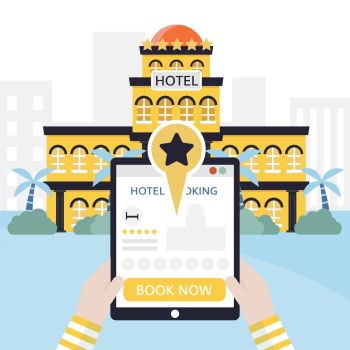 Managing hotel booking is a constant challenge. For older and emerging hotels, it can be extra tough having to compete with the resources and capabilities of bigger and more established hospitality businesses.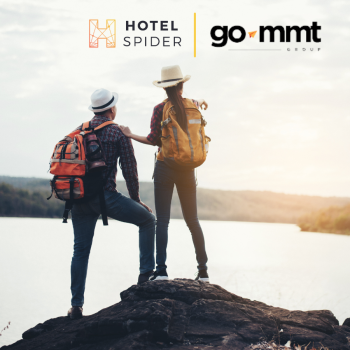 India is home to some compelling booking platforms that, if used correctly, can help hoteliers manage their bookings much more effectively and drive up their occupancy rates.