Google made big waves when it offered free hotel booking links for the first time in 2021. Trivago followed suit in early 2023. Learn how to make the most of these links.
Nothing in life is free. You have probably heard this many times or even said it yourself.
So why do Google and Trivago, two of the biggest hotel metasearch sites, offer free links to your hotel website? And do these links actually lead to more clicks and reservations?
Susanne Kamm, Elisha Schoppig and Marco Baurdoux from Hotel-Spider discuss these questions in the live stream.
Discover the most important information and tips about "free booking links" and learn how you can take advantage of them here.
What are free booking links?
Free booking links allow hotels to display their prices on metasearch sites and link directly to their booking engine without running paid ads.
Google was the first metasearch site to introduce this at the beginning of 2021. Trivago has also been offering a similar concept since spring 2023.
Trivago's free booking links are only available in certain markets for the time being. These include Finland, France, Germany, Ireland, Italy, Spain, Sweden and the United Kingdom. But they are likely to also be available in other countries soon.
How do free booking links work?
Just like other online sales partners, your hotel needs to share prices and availability with metasearch sites. This is where a web booking engine (WBE)) like Hotel-Spider comes into play. Working seamlessly with these platforms, it facilitates integration and provides a solid infrastructure.
Once set up, you can then activate your free booking link on the metasearch pages. On Trivago, you can activate this in the Business Studio, and on Google it can be found in the Ads account. If you use the Hotel-Spider booking engine, Google connectivity is automatically included and is activated directly. The link will then appear alongside other booking options for your hotel.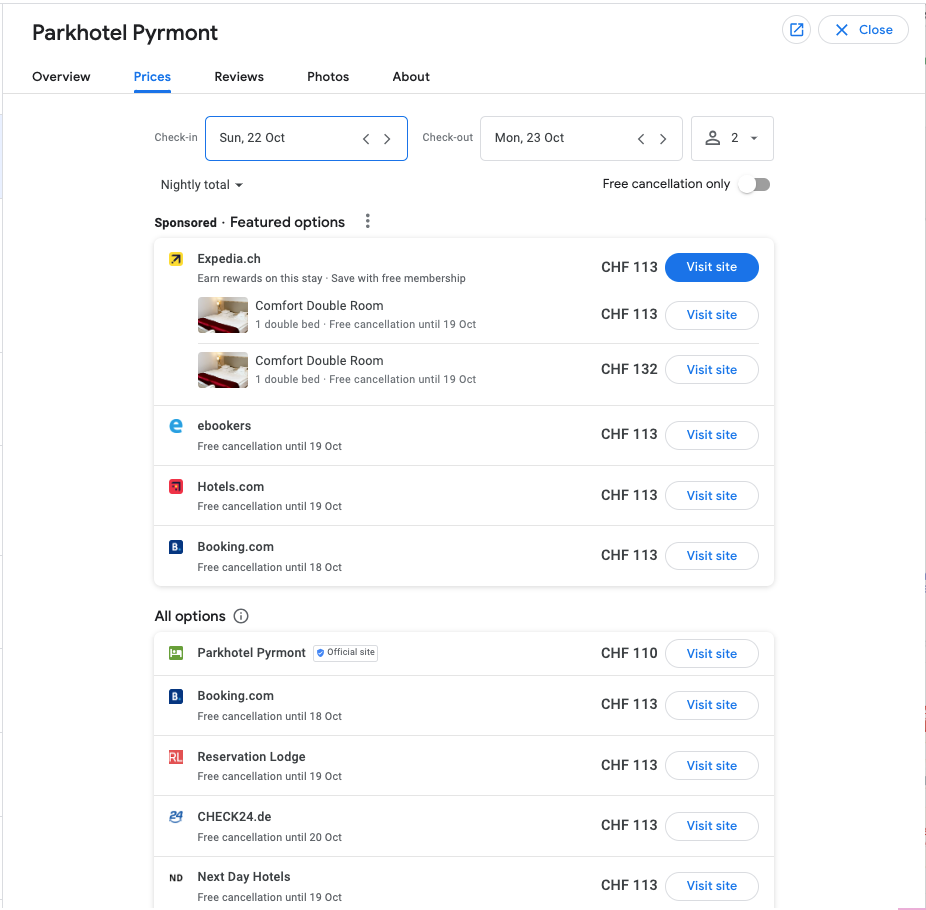 [As an example, this is how the free booking link is displayed on Google. A single click directs the potential guest to the hotel's website.]
This example also highlights the difference between the different links. Paid promotions are positioned prominently at the top, while the free links are displayed in the lower section.
The setup is similar on Trivago, with paid links generally positioned at the top, although free and paid links are not displayed in separate sections.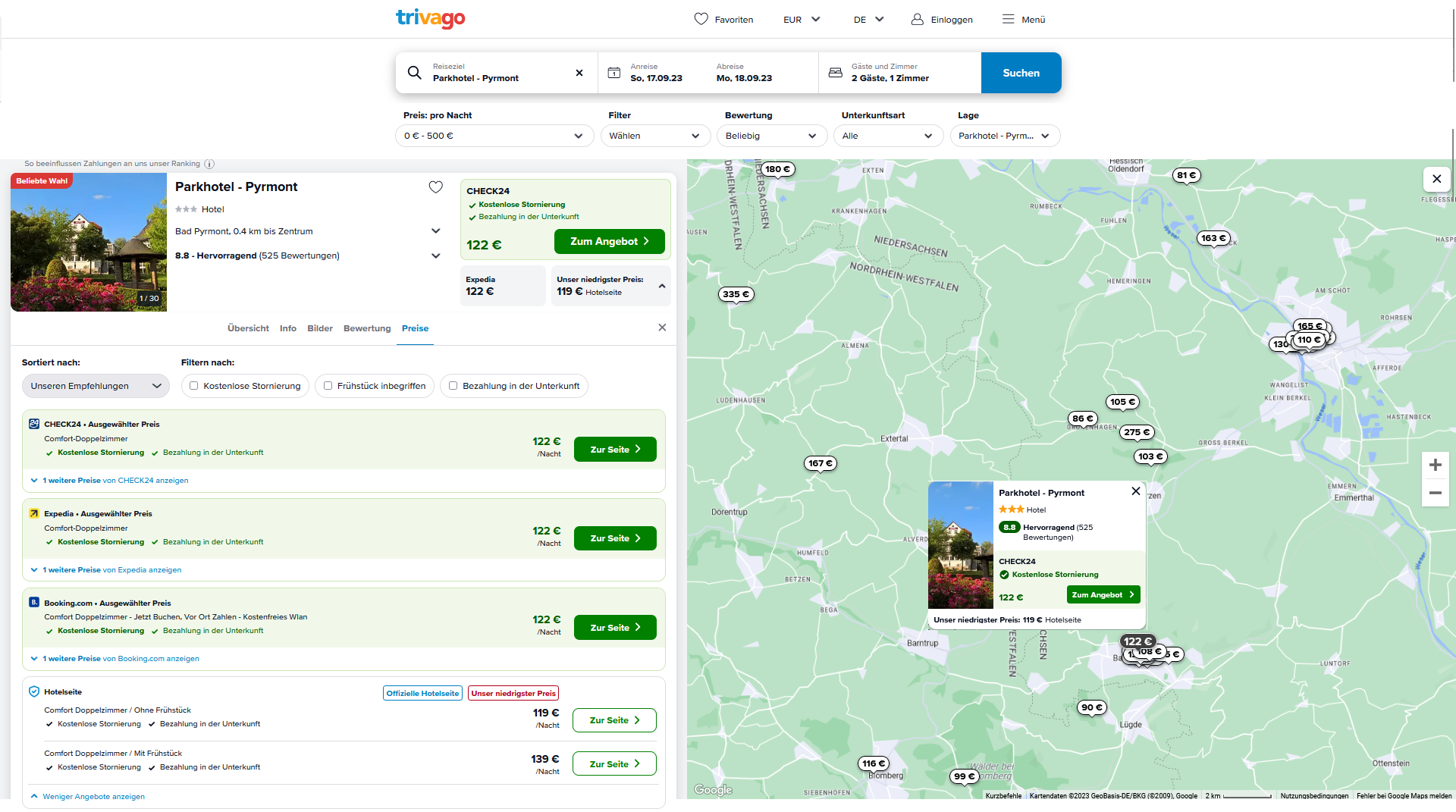 [Caption: Although the price on the hotel website is the cheapest, the offer is shown further down in the list because it is a free booking link.]
Paid or free links: Which are better?
Elisha offers some clear advice: "The free links are certainly a great opportunity for hotels to gain more visibility on metasearch sites. But your hotel will naturally be better positioned and attract more attention if you use paid links."
This is simply because many customers tend to click on one of the first links without exploring all available offers. The higher your link, the more likely it is to be seen and clicked, generating more page views and reservations over time.
"That's why it's not prudent to switch from paid campaigns to free links," Marco explains.
The effectiveness of free links also varies from hotel to hotel. Anonymized data from Hotel-Spider customers relating to impressions and clicks reveal that some hotels receive nearly 1,000 clicks per month from Google free booking links on the booking form, while others receive significantly less over the same period.
These differences can be caused by various factors, such as your region, the market or the actual search volume. Unfortunately, you have no control over these factors. But one crucial aspect you can enhance is the quality of your hotel profile.
Optimize your profile for more clicks with free booking links
A well-maintained, up-to-date hotel profile is essential, allowing your hotel to be found more quickly by potential guests and appeal to them effectively. Take note of the following points.
On Trivago
Before you can get started with free booking links, you will need a profile in Trivago Business Studio. After creating a profile, you can enter all of your hotel details, including information about your facilities, services and location. Take plenty of time to complete this step, as this will help with your listing in filtered search results.
Now all that's missing are the pictures. They are the most important thing for lots of guests, so don't skimp here. Download recent, high-resolution photos that show the hotel, public areas and rooms at their best.
Find out what is important for optimal hotel photos -> here.
On Google
The process on Google is similar. Once again, you will need to start by creating a profile, in this case on Google My Business. Fill in all the hotel details to show exactly what you offer your customers. Completing this step is slightly more complicated on Google, but it's worth the effort. This will ensure that guests with specific requirements will be shown your hotel as a relevant result. Then all you need to do is add some photos and your profile is complete.
Bonus tip: The right booking engine
Even a thousand clicks a day are of little use if your booking engine puts off potential guests. Conversely, you can also achieve good results with relatively few views if the booking engine offers a good user experience.
As is the case on the metasearch sites, good images and accurate descriptions are important. "Make sure that your booking engine is also optimized for mobile devices. This is crucial, because around 50% of all views are now on smartphones," emphasizes Marco.
"You can also offer additional services in the booking engine, like early check-in or a bottle of champagne in the room. "This allows guests to personalize their stay while booking," he adds.
How beneficial are these free links really for your hotel?
After we have looked at how the free booking links work and how they can be optimized, we come to the question: Are these links actually beneficial for your hotel?
"It's wonderful that hotels can now appear on metasearch sites like Google and Trivago for free. This directs more guests to your booking engine, potentially resulting in additional reservations. However, Google and Trivago are still acting as intermediaries between you and your customers. That's why you shouldn't rely on these sites alone." says Elisha.
Marco brings up another interesting point: "These portals do not offer free links as a favor to hotels. They aim to attract more hotel partners in order to enhance their service and expand their market share. In the future, for example, this could potentially position Google as a front-runner in voice-controlled reservations."
Despite the objectives these two portals have for their free booking links, they do offer numerous benefits for hotels.
And you can take advantage of these benefits by investing some time in your metasearch profiles now to enhance your visibility and attract more direct bookings.
It is not clear how long these links will remain free.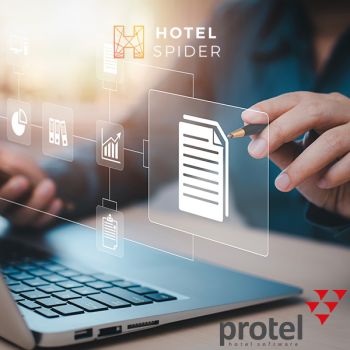 Our long-standing partner Protel Hotel software, now part of the Planet family, is familiar with this problem and has developed a solution, Protel I/O.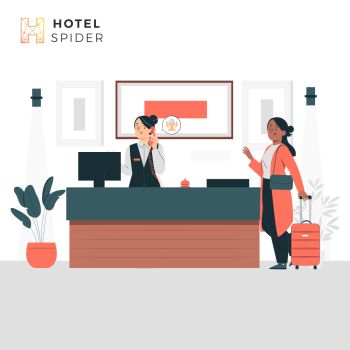 Upselling and cross-selling are both extremely valuable strategies in the hotel industry, and this has been the case forever.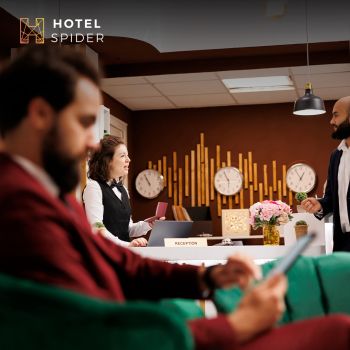 Everybody loves a long weekend. Finishing work on a Thursday afternoon, knowing that several days of relaxation and enjoyment lie ahead. It's tough to beat.