Digitalization of the hotel industry has been steadily advancing in the DACH region of late, and recent events, including the Coronavirus pandemic and changes in travelers' expectations, have rapidly accelerated this trend.
The introduction of digital registration forms is having a similarly great impact, and offers many new opportunities for hotels to digitalize their services. In this article, we'll be taking a closer look at how digitalizing hotels can help meet guests' changing needs.
Digital registration forms: a giant step towards digitalizing the hotel industry
The bureaucracy of registration procedures has long been a burden for the hotel industry. Digitalized registration procedures have been permitted within the DACH region since the start of 2020, however, with the aim of reducing bureaucracy while still capturing the necessary data.
The digital registration form is at the heart of these new registration procedure; it ensures that relevant data is collected anonymously, safely, and in accordance with GDPR guidelines. Guest signatures are replaced by other methods that are considered safer.
Hotels in Germany and Austria have the following options:
Verifying identity via credit card: the guest confirms their identity via "stronger customer authentication" (SCA) from the payment provider.
Collecting data from electronic ID: the guest agrees to an identity check by entering their PIN. Alternatively, data from their ID can be read by a scanner at reception.
Comparing a photo to ID: this happens when ID data is read by a scanner on site.
Digital signature: in Austria, you can also use a digital signature to sign the digital registration form.
As you can probably imagine, digital registration entails a number of benefits for hotel owners. As guests no longer need to sign a physical registration form, hotels can now offer totally contact-free check-in/check-out, thus reducing work for reception staff and leaving them more time to help guests who prefer a more personal check-in and check-out experience.
It's also a way for entire regions to transform themselves into digital destinations. If registration forms can be digitalized, so can visitors' cards offering guests all kinds of additional benefits, such as free travel on public transport or discounts on any number of attractions and activities. MASCH Software Solutions has already successfully implemented such a system through its integration with the Hotel-Spider Channel Manager.

Guests' expectations are changing
Gen Z, millennials, and digital natives make up an ever-greater proportion of travelers; as they've grown up with modern technology, they will use it when booking vacations and expect it during their hotel stay, too. Older generations are also increasingly making use of the internet and other technologies, however; 69% of 60-69 year olds and 36% of over 70's go online regularly, for example.
The upshot is that more and more travelers are expecting digitalized, flexible service options throughout their entire guest journey. We also anticipate changes in behavior during and after stays, particularly in respect of communication. Innovations in hotel technology and new legal regulations are making it increasingly easy for businesses to accommodate these new guest expectations.
Now let's take a look at what this means before, during, and after a trip.
Before
Guests no longer rely on travel agents and brochures; instead, they are doing lots of the research themselves. According to Statista, 69.8% look at online blogs and travel journals, with 36.5% taking inspiration from social media.
One trend is the same across all channels: when planning a trip, everyone wants their questions answered quickly – or immediately, if possible. Direct communication can be a deciding factor here, and will also ensure you more of those valuable direct bookings; the quicker you answer, the higher your chances of gaining a guest.
A Live chat on your hotel website allows visitors to ask questions and obtain a speedy response from the hotel team, for example. This doesn't mean that you need to sit in front of your PC for 24 hours a day, however; instead, you can use a system like DialogShift. Their chatbot answers frequently asked questions in seconds and integrates with the Spider-Booking booking mask. For direct bookings, this enables the chatbot to transfer all the customer's details across to the booking screen immediately, saving your colleagues a good deal of time that they can then devote to more complex queries.
Live chat is also a good opportunity to upsell and cross-sell. You can easily inform guests about additional services they can book directly through the chat. In addition, you can also answer questions about the area and help guests plan trips and activities. This will increase anticipation, simplify planning, and may well bring in welcome additional income.

During
It's now more important than ever to offer contact-free services, and implementing online check-in and check-out is an important starting-point. The digital registration form is essential for this, but a PMS that supports this option is also required.
If you'd like to digitalize stays even further and wish to give guests the option to skip reception completely, digital keys are the answer. Travelers can then use an app or Bluetooth on their cellphone to access their room, the parking garage, the gym etc.
A hotel app or a digital folder for guests can be used to replace traditional flyers and other informational material, and these digital solutions have become cheaper and easier to implement than ever before. They're also quick and easy to update, which means you can always provide guests with the latest, up-to-the-minute information about your offers. You can use both channels to communicate directly with guests and give them the option to book additional services (e.g. tables in restaurants, late check-out, spa treatments etc).
These solutions enable guests to tailor their stay perfectly to suit their own preferences and needs. This has many benefits for your hotel: your guests have a more enjoyable stay (and will write more positive reviews), your team saves time, and your hotel can increase revenue.
After
Keeping in touch with guests after their departure used to be very difficult, but has become a lot easier thanks to email, messaging apps, and other technologies. This means that there's no reason to lose track of your guest once they've left your hotel.
Use a CRM (customer relationship management tool) to automatically send messages to your guest after check-out – you can thank them for their visit, ask for a review, and invite them to come and stay with you again. You can also send offers to returning guests, of course, and share regular updates if you have new offers or wish to drum up interest.
For best results, we recommend personalizing your communications. Shortly before their birthday, you might send a guest an invitation to celebrate with you, for example, or you could group guests according to their preferences and send them relevant offers – a guest who usually gets in touch in February to book their summer vacation will be particularly pleased to receive an early booking offer aimed at regular customers. With this type of communication, it's important to offer guests added value and only send them offers that would be of interest to them.
As you can see, digitalization may involve a little extra work at the start, but offers considerable benefits: you'll reduce paperwork and save time, which in turn will free up members of staff and give your team the opportunity to spend more time with guests and build up a personal connection with them. In addition, you'll make it easier for guests to organize their stay to suit their own individual tastes.
This will not only result in to a better experience for your guests, it may also help to increase your revenue – and you'll see how worthwhile it has been just by looking back over the previous year.
So, don't hesitate any longer – now is the time to take the first step towards digitalization!
The International OPERA PMS can speak the language, operate in the currency, and calculate the tax type considerations that you need in hotels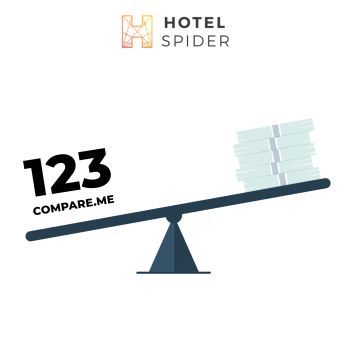 Together with our partner 123compare.me, Hotel-Spider has been running a study on the impact of price parity on conversion rates. Our first results show that being in parity with prices increases conversions on the Hotel Booking engine by over 350%.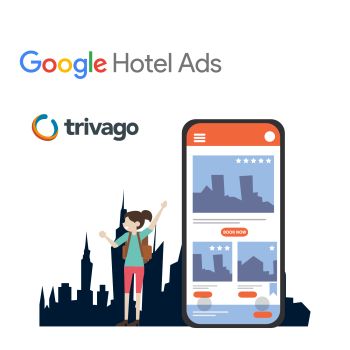 Historically, meta-search providers have always worked with cost-per-click advertising. We are now also able to offer you access to Google and Trivago's acquisition-based cost models.