There are many channels available today when it comes to attracting more guests to your hotel and getting more direct bookings. One of the most powerful methods here is the metasearch engine.
Metasearch platforms, if used correctly, can result in impressive numbers of direct bookings and can grow your hotel. However, there are several things to understand and be aware of to make sure you make the most of this channel and get optimal results.
Let's start by looking at why metasearch platforms are so valuable for hotels.
Why are metasearch platforms so useful?
The power of metasearch engines comes from the fact that they can give your hotel great visibility online without sacrificing direct bookings.
Metasearch engines allow your potential guests to see your directly listed rooms and rates alongside equivalent listings on large OTA platforms like Booking.com (which charge commission). This puts you on a level playing field with much bigger sites that typically get much more traffic.
As a result, if you know what you're doing when it comes to metasearch engines, you can stand out from the competition and attract a steady stream of valuable direct bookings.
Who are the biggest players?
Here are some of the biggest metasearch platforms to consider. Each has its own pros and cons, and it's usually best to work with several.
Trivago
TripAdvisor
Skyscanner
Google Hotel Ads
Kayak
WeGo
Understanding pricing on metasearch engines
When planning your metasearch strategy, one of the most important things to consider is your budget and how pricing works.
The good news here is that metasearch engines are a much more cost-effective channel for hotels when compared to OTAs. Metasearch engines don't charge a commission, which means the bookings you get here will result in more profit than those you get through OTAs.
Let's take a look at some important pricing concepts to be aware of, and the pricing models you can use with metasearch engines.
Bookable Rate vs Conversion Rate
One important concept to be aware of with metasearch engines is the bookable rate, also sometimes known as the Best Available Rate (BAR). How does this work?
When you list your hotel in a metasearch engine, it will appear alongside listings from OTAs for the same room. The price shown next to each of these listings is called the bookable rate.
The bookable rate does not include additional costs and deductions like taxes, discounts, commission, and more — these are added on afterwards and affect the final price paid by the customer. The final price with all these factored in is the conversion rate.
Pricing models: CPA vs CPC
It's important to understand the difference between the pricing models CPA and CPC. Here are the basics:
Cost-Per-Acquisition is when you pay each time a customer makes a booking or purchase with your hotel.
Cost-Per-Click is when you pay each time a customer clicks on your listing in a metasearch engine.
Both models are important in their own way. CPC helps you focus on driving traffic to your website to get more direct bookings, while CPA guides you to the exact action you want to pay for.
Pricing strategy for metasearch engines
Let's take a look at two of the main types of pricing to consider when creating a pricing strategy for metasearch engines — direct booking pricing and online pricing.
Direct booking pricing is when your metasearch engine listing links directly to your hotel website, allowing your potential booker to see and access a much lower rate there.
Online pricing refers to the rates listed by other OTAs on metasearch engines, which can be compared with your own website prices.
How to optimize your metasearch listings
When you list your hotel in a metasearch engine, you are competing with many other hotels, and also, in a sense, competing with your own rooms that are listed with OTAs. This means it's essential to do everything you can to maximize visibility and attract as much traffic as possible.
The good news is, there are a lot of things you can do here to improve your performance and stand out from the competition.
Use high-quality images
When your potential guests come across your listing on metasearch sites, your images will be the only visual insight they get into your property. People enjoy visual experiences, and photographs play an important role in the decision-making process when choosing a hotel.
According to research by TripAdvisor, listings with photos get 138% more engagement than those without. What's more, higher-quality photos tend to get more engagement than lower-quality ones.
Make sure the photos in your listings are clear, attractive, well-lit, and show all the most important features of your property. You don't have to use a professional photographer, but this will likely deliver the best results.
Optimise your booking engine
Your hotel booking engine should be as smooth and user-friendly as it possibly can be. You want to make it as easy as possible for your potential guests to book directly through your site — if there is any friction or difficulty here they will simply leave and book through an OTA.
Make sure your booking process is simple and fast with no unnecessary steps. Any bugs or confusing points should be removed, and your booking engine should also work perfectly on mobile devices.
Hotel-Spider's platform is designed to help hotels drive more direct bookings than ever before. We offer metasearch connections, combined with a powerful booking engine, channel manager, and much more, helping your hotel stand out, succeed, and gain more customers.
We did an interesting discussion with our partner IDS, take a look at video.
Request a demo to find out more about how we can help.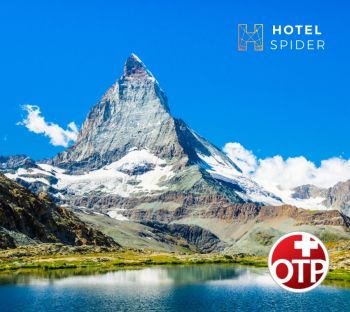 OTP was started in 1992 by skiers who wanted to be able to ski the best areas in Switzerland. It is now a booking platform for their many clients choosing to holiday in Switzerland, thus a great platform for your hotel to be represented.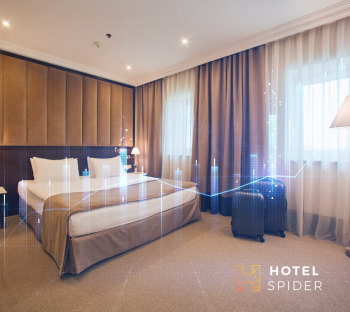 Like many hoteliers, you may use a fixed price per room - regardless of whether you have been booked to maximum occupancy or not. It's easier and makes the number of rates you need to keep track of more manageable.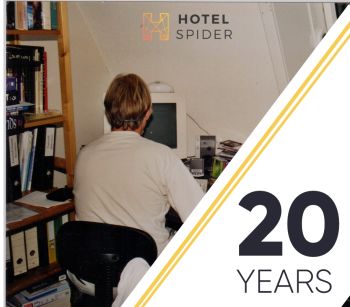 Hotel-Spider is celebrating its 20th birthday this year. The company has come a long way in this time and has helped hoteliers to generate countless reservations across the world.