Hotel rate parity is the practice of maintaining consistent rates for the same product across all online distribution channels including brand website, global distribution, online travel agencies, and regional OTAs – regardless of Online Travel Agent (OTA) commission.  
Hotel rate parity is the practice of maintaining consistent rates for the same product across all online distribution channels including brand website, global distribution, online travel agencies, and regional OTAs – regardless of Online Travel Agent (OTA) commission.
When you connect with an online travel agency, they usually require hotels to agree to rate parity which means your hotel prices for your rooms on your website or other third-party channels should be the same as those shown on OTAs.
If hoteliers undercut their rates and display prices on their website that are different than those shown by OTAs for the same products, then there's disparity.
What are the Hotel Rate Parity Challenges?
Hotel rate parity certainly poses many challenges for hoteliers as they earn a different net revenue depending on the booking channel the customer used for their online booking.
Every distribution channel (except your hotel's website) has a cost of acquisition/commission.
For instance, bookings made via Booking.com might cost hotels 10-15%, while bookings made via Expedia might cost hotels 15-20%.
Hoteliers continue to struggle to drive revenue from OTAs with such commissions, especially when they are already offering the lowest possible rates. Even if you plan to offer discounted prices for your hotel rates, you need to share this with your online travel agencies.
Rate parity issues are the leading indicator that hotels are struggling to execute their hotel distribution strategy – a problem that costs hotels over $1 billion a year.
Hoteliers often turn to direct booking, where they exclude certain room types from OTAs and only offer them on their hotel website. However, most hotels battle to sell even the first few rooms on their own website, often due to a lack of things like visibility, social media presence, and the credibility that travelers get by default with most online travel agencies.
Then there's the challenge of technology. If your OTAs are not directly linked to your hotel's PMS (Property Management System) through a channel manager, you're more likely to experience rate disparity. Plus, hoteliers might have to log in to different systems to update their rates manually across various OTAs and other distribution channels.
5 Simple Techniques to Manage Hotel Rate Parity Across Various OTAs and Distribution Channels With Hotel-Spider
1. Offer More Value on Direct Bookings
You can enhance your offering by adding perks like free parking, WiFi, a free local tour, or even tickets to a local event. While online travel agencies might entice travelers with discounts, you can beat them by offering more value and a superior experience to your hotel guests.
2. Lower your Rates for a Limited Audience
While rate parity calls for consistent pricing across various channels, if you exclude certain rooms from OTAs and promote them to your social media followers, email list subscribers, previous hotel guests, and more, you can easily reach more audience members and increase your direct online bookings.
3. Partner with Channel Managers
A good channel manager will help you manage your rates and inventory across multiple online distribution channels. For example, Hotel-Spider offers an easy-to-use and flexible channel manager that allows you to update your inventory and rates across OTAs with a few simple clicks.
Reservations made on any OTA will reflect on your PMS in real-time, ensuring that there's no discrepancy in room availability on multiple channels. Moreover, you can automate the process of updating your inventory on various OTAs and dashboards instantly. 
4. Use Metasearch Engines
Metasearch engines like TripAdvisor allow travelers to compare and search not just different hotel offers but also various channels for each property.  Most metasearch sites offer a pay-per-click (PPC) or cost-per-click (CPC) model where hoteliers can bid on these platforms to be featured at the top of the list.
Often, such pricing models are much more affordable than the commission paid to OTAs. By using Spider-Booking, you can connect with some of the most popular and reputed metasearch platforms including Trivago and TripAdvisor. Additionally, you get a free setup and training session for using our software to make sure your onboarding process is seamless and hassle-free.
5. Offer a Seamless Online Booking Process
OTAs largely dominate the online bookings market space for hotels and attract a huge customer base — and there's a reason why. Online travel agencies invest heavily in an appealing user interface that makes it easy for travelers to search, plan, and book their travel arrangements. Make sure you offer an amazing user interface for your potential hotel guests, by offering regular updates, strong call-to-action buttons, and a robust online booking engine.
Takeaway
While hotel rate parity allows you to set easy, fixed pricing for your hotel bookings across all channels, it limits your ability to freely market your property prices and makes you lose a significant amount of potential revenue as massive commissions to the OTAs.
Hotel-Spider offers a modern solution that caters to your hotel rate parity challenges. We bring you solutions like a channel manager, booking engine, and metasearch connections to help you connect with more hotel guests and access potential revenue you'd otherwise lose out on with OTAs.
Connect with us to learn more.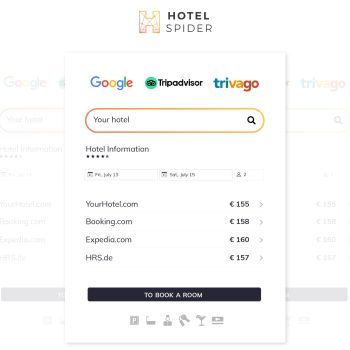 It's no longer a secret that meta search engines are gaining popularity amongst travelers. That said, how can you leverage this trend for your own hotel?
Now Hotel-Spider and Google offer another option for reaching new clients. The new bidding strategy allows you to bid for more direct bookings risk-free with Google.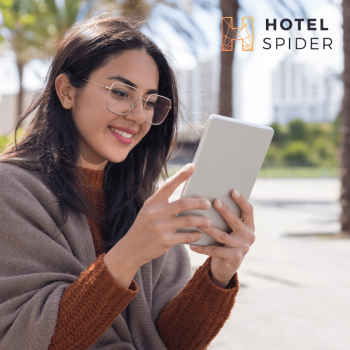 Customer service and expectations, especially in the hospitality industry, have changed significantly over time, with digital mediums enabling both customers and hoteliers to benefit.