It's no longer a secret that meta search engines are gaining popularity amongst travelers. That said, how can you leverage this trend for your own hotel?
How meta search engines can help you achieve more direct reservations
A gateway to the leading meta search sites is a good starting point. Then there's the question of how to get your hotel to be displayed at the top of the search results.
Answers to these questions are provided by Susanne Kamm, Elisha Schoppig and Marco Baurdoux in this live stream. Here they explain what you need to take into account in order to work successfully with metasearch engines.
They also discuss the role these channels should have in your overall business model.
A summary of the most important points as well as specific tips on how to use meta search engines can be found here.
What is a metasearch engine?
In short, a metasearch engine is a website that retrieves search results from several other websites, compiles and then displays them in a compact format. In the tourism industry, there are metasearch engines that cover all the components of a trip, which, for example, can be used to easily find and compare offers for flights, rental cars, activities and much more. This article, however, is specifically about metasearch engines for hotels.
How does a metasearch engine for hotels work?
Let's take a look at an example of how this type of website works from the guest's point of view.
John would like to spend a night in Berlin. Since there are more hotels in the city than he is able to look at one by one, he uses Trivago. There he enters info on his desired whereabouts and clicks the search button.
In the backend, Trivago sends John's request to Booking.com, Expedia, Agoda, Hotel-Spider, etc. Once Trivago receives responses from these providers, it organizes and displays the results. Essentially, this allows John to search all of these websites simultaneously without leaving his current browser window.
In order to find the most relevant results, John can make use of various filters. In doing so, he quickly finds accommodation in a specific location, price range or with his preferred amenities, for example.

Just one click is enough to be redirected to the provider's page. After a few more clicks, John is able to make a booking there and then.
The top metasearch engines
The popularity of each metasearch engine differs greatly depending on the continent. Whereas Kayak is in high demand in North America, travelers in Europe tend to rely on Trivago and TripAdvisor.
In recent years, however, Google Hotel Ads has rapidly increased its market share worldwide. By 2019, this relatively new provider was already considered the top meta search engine in Europe. Since then, the numbers have shifted even further in Google's favor.

source: colorwhistle.com
At this point, it is worth mentioning that three of the market-leading meta search engines (Trivago, Skyscanner and Kayak) belong to OTAs Expedia, Priceline and Ctrip. Only TripAdvisor and Google Hotel Ads are independently run.

source: statista.com
Why collaborating with meta search engines is worthwhile for hotels
Travelers appreciate meta search engines because they can find them all offers in one go. This is why these meta search engines are gaining more and more users, and are becoming robust sources for website traffic for hotels. This can lead to more direct reservations, which are more profitable for your hotel than bookings via OTAs.
One reason for this is lower distribution costs. One more important point is the fact that with direct reservations you have unrestricted contact with the guest. This gives you opportunities during the guest's journey to generate additional revenue from each reservation through up-selling and cross-selling.
Metasearch sites as part of your long-term direct sales strategy
No matter where you advertise your hotel online, paid clicks or commissions result in similar distribution costs across all channels. This is also the case for metasearch engines. Getting a new customer who probably wouldn't have heard about your hotel otherwise, that's a good investment.
If you can then convince the guest to book their next stay with you directly, then you've done everything right. If that doesn't work out, consider how you can make direct booking more appealing, e.g. by offering better conditions or additional services.
Meta search engines give you a higher chance of gaining direct reservations right from the start. On these sites, your offer can end up being listed right next to those made by OTAs and hence receives more attention. This doesn't mean that collaborating with meta search engines eliminates the possibility of using other distribution channels; rather, it's about testing a wide variety of options to continually optimize your sales figures toward receiving more direct reservations.
Work successfully with meta search engines
The most certain way to get ranked as high as possible is through either paying for clicks or reservations. There are various payment models for this. Some meta search engines allow you to choose the best method for you whereas others will specify payment terms. In each case you'll be bidding against your competition, so a higher bid will put you in a more desirable position.
Typical payment models used on meta search engines
Cost per click (CPC): You pay per click, regardless of whether or not it results in a reservation.
Cost per acquisition (CPA): You pay only when a reservation is made - even if it is cancelled.

Cost per stay (CPS): The charge is only applicable if the guest actually stays overnight. This is most similar to traditional commission and involves the least risk to your hotel.

TripAdvisor Plus: Things are a little different on Tripadvisor. Here members pay monthly or annually in order to be listed.

Free Google links: Here Google lists your hotel website for free below the paid links.
What else influences the position of your hotel on the meta search engine
Each meta search engine has its own algorithm. However, if you bear the following four points in mind, you are on a good path everywhere..
1. Bid: Those who bid too low will not be listed at all or will only appear low down in the results. Test different values to find the optimal amount for your hotel.
2. Rate parity: Prices on your hotel website should be the same or lower than prices on the OTAs. More expensive offers for the same room will move further down the list.
3. Availability: It should also be the same on the website as it is on OTAs. There should also be no restrictions on the website that do not apply to OTAs.
4. Booking engine conversion rate: The better conversion rate your web booking engine (WBE) has, the higher up you will be. This is because meta search engines profit from every reservation.
Booking engine - best practices for more direct reservations
So now the only question left is regarding how to turn your booking engine into a miracle worker for your conversion rate. Put these tips into practice and your website visitors will be delighted with how your WBE looks.
Transfer information: All info provided by the guest on the meta search engine (dates, number of travelers...) should be directly transferred to the WBE, which saves time and simplifies the whole process. The fewer clicks needed, the higher the probability that someone will complete their booking.
All in one window: The website visitor should not have to leave the WBE in order to find more info regarding the reservation. List different room categories, offers and conditions directly in the booking engine to make it easier for guests to compare the options and make their decision.

Optimize for mobile devices: People often use meta search engines on their smartphones. For this reason, the WBE must also be optimized for and be able to provide a good user experience on all mobile devices.
Now that you've learnt a bit more about meta search engines, it's time to start implementing the above tips.
First, you'll need to optimize your booking engine and check your offers, availability and rate parity. Then, start to engage with the different meta search engines and test different bidding and payment models.
Here you'll need some time and patience at first as it will take time to find the optimal settings for your property. But once the time has come, meta search engines can supplement your online sales nicely and help you get more direct reservations.
Now Hotel-Spider and Google offer another option for reaching new clients. The new bidding strategy allows you to bid for more direct bookings risk-free with Google.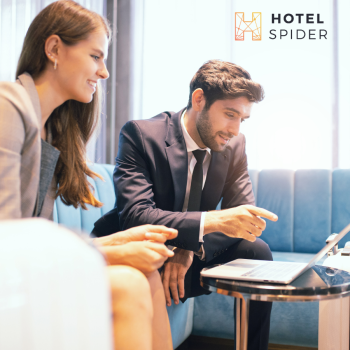 The hospitality industry is known to have a stigma for being slow at adopting technology and catering to the dynamic needs of travelers. But that's changing quickly now, especially after the 2-year long slump in 2020-21 due to COVID-19.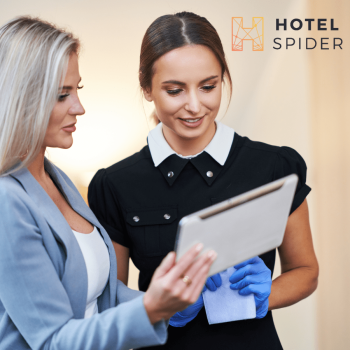 Hotel rate parity is the practice of maintaining consistent rates for the same product across all online distribution channels including brand website, global distribution, online travel agencies, and regional OTAs – regardless of Online Travel Agent (OTA) commission.