What comes to mind when you hear "online marketing for hotels"? Social media? OTAs and your websites? Search engine optimization? Perhaps also meta-search engines or paid advertising?
Whatever you thought of first, you are correct. All of this and much more are a part of online marketing.
Elisha Schoppig and Marco Baurdoux from Hotel-Spider provide a broad overview of this extensive topic in this live stream
They share valuable tips about various key tactics and tools to help you to increase your hotel's reach and generate more reservations.
In the following blog post, we provide a summary of the most important aspects and expert advice on the various elements of online marketing.
Your Hotel-Website
"Your hotel website is the central focus of your online marketing. All channels and activities should lead potential guests here. Think of it as like the spokes of a bicycle, all converging toward the center," Elisha explains by way of introduction.
The goal is to then convert these website visitors into paying customers. "For this purpose, your website needs to be designed as an e-commerce platform rather than just a storefront that showcases your establishment. The focus is therefore always on customer acquisition," states Marco.
An uncomplicated structure and attractive images and texts are extremely important for this purpose. This should also be regularly updated to reflect new additions to your property, special offers or the current season.
"The hotel website is an ongoing project that is never completely finished. There is always room for improvement. Look at the user data to see where you could improve performance. Ideally, you should allocate a portion of your marketing budget for annual website maintenance," Elisha adds.
Understandably, the cost of a new website or its revision can act as a deterrent. "Don't cut corners here. Your website is your most important marketing and sales channel. Investment in good hosting, a technically solid setup and good content definitely pay off, " Marco adds.
The booking engine
In addition to the content and structure of your website, the booking engine (IBE) also plays a crucial role in customer acquisition. To achieve the best results, it must be well integrated into the website and should be easy to find and use. It must also work just as well on smartphones and tablets as it does on a desktop. The Hotel-Spider booking engine covers all these requirements.
"The guest should be able to access the booking engine from any page. This increases the chances of them booking directly with you. The booking process must of course also be swift, easy and secure, regardless of the end device being used. This is how to create a positive customer experience and avoid people bailing out at the last moment and booking via an OTA," Marco explains.
Your booking engine provider plays an important role here. Solutions vary greatly in terms of structure, design, and user-friendliness. This should always be the focus, as it determines how many guests actually book directly with you.
In this context, it is once again important to have a look at your data. How many guests cancel their booking at the last moment? At which step do you detect the most withdrawals? Analyze this information and optimize your booking engine accordingly.

SEO – Search Engine Optimization
The quality of your SEO determines how well search engines can find your hotel website. In turn, this determines how high up in the ranking your hotel is displayed in the results, as well as the number of visitors to your website.
Two elements are important to improve your SEO: the content and the technical structuring of your website.
Your content must be relevant to your target group. It must swiftly and reliably answer the most important questions of your potential customers. If you take this into account, you are probably already automatically using keywords that your target audience searches for.
"If you know whom you are talking to and what they are interested in, you can create targeted content that will attract them. This may include descriptions of your services, blog articles or even special deals." explains Elisha.
How well your website is structured and how quickly it loads doesn't just affect the user experience. Both of these aspects are also extremely important for SEO. Fortunately, most modern content management systems (CMS) are optimized for this purpose and thus relieve you of a lot of work.
Marco states the following regarding CMS: "Ideally, you should use a popular CMS such as WordPress. This means that you are more independent from your web agency and don't have to start from scratch when you need to make changes."
You can also work on your Google My Business profile on the basis of SEO principles. Use relevant keywords in your description and update images and content regularly to ensure that people are able to find your profile quickly. This will help you to attract additional visitors to your website and boost your chance of direct bookings.
Meta-Search Engines
Your hotel will automatically appear on meta-search engines, such as Trivago, Skyscanner and Kayak as soon as you start working with OTAs. This is a great advantage for you, as it will help you to attract new customers to your hotel. This causes a billboard effect, ensuring that approximately 65% of OTA bookers will stop by your website before they book. This opens up many new opportunities for direct bookings.
"Of course, you can also create your own profile on meta-search engines and list your website directly. Even placing ads can be a good approach, as guests who search here are usually about to make a booking decision," Marco explains.
Although appearing on these many channels can be helpful, Marco and Elisha urge caution: "It is important not to be completely dependent on any one portal. Always maintain control and only offer conditions that are right for your hotel, your guests and the current market situation. Try new channels and diversify until you find the optimal mix for your business."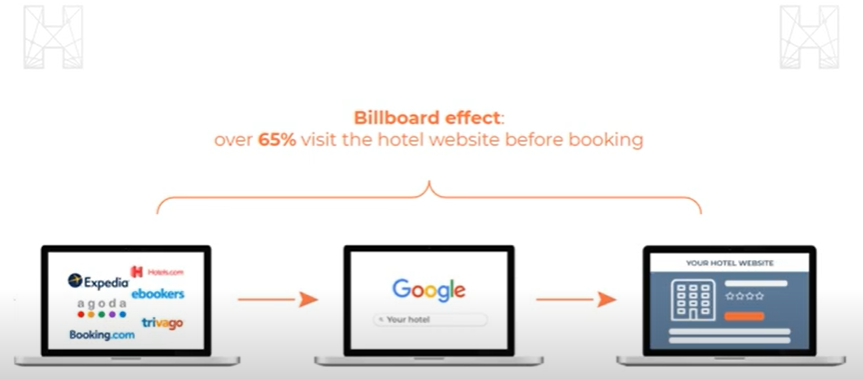 Display advertising
Display advertising on search engines is also an excellent way to climb higher in the results and attract more visitors to your website. In this regard, there are two options that you should test.
1. Advertising on your own brand name: If potential guests already know your hotel or have just discovered it on an OTA, they will most likely type the name into the search engine to find out more about it. In these cases, place an ad on your hotel name. This will increase your chances of reaching the top of the results list and getting the most clicks.
2. Ads for relevant keywords: If your hotel has features that your guests are specifically looking for, we recommend the placement of ads focusing on these features. For example, if your establishment in Zermatt offers a beautiful view of the mountains, you could use a pay-per-click ad for the search term "hotel with mountain view Zermatt". You will then appear higher up in the results and attract customers who are looking for the exact features you offer.
"This is about taking up more space in the search results and attracting more visitors to your website. This provides your brand with increased visibility and boosts your chances of direct bookings. Try different search terms for your ads to discover what is most likely to appeal to your potential guests. Of course, this is also subject to seasonal changes, so test new terms occasionally," suggests Elisha.
E-mail marketing
E-mail marketing is an excellent way to engage customers. For example, send guests a short thank you message after they leave, along with a discount code for their next stay. This makes direct bookings more attractive to your guests than booking via OTAs.
"Of course, you don't need to manually email each and every guest. This is what customer relationship management (CRM) platforms are for, and they automate the lion's share of this work. This makes it easy for you to stay in touch with guests and inform them of new offers," says Marco.
Once again, it is important to regularly analyze data and optimize your approach. "Check to see how many people open your emails, click on links and actually book. This will indicate where there is space for improvement. If you want to go one step further, try personalized content. This works very well with a CRM system that segments guests and sends them relevant e-mail messages", adds Elisha.
As you can see, there are many online marketing approaches you can use to attract guests, attract them to your website and convince them to stay at your hotel.
The most important thing is to keep trying different approaches and optimize existing elements, such as your website.
Data is your best helper here. It shows you what works best for your hotel and your target group and where you need to make some additional adjustments.
If this is where you decide to invest, you will therefore be on the right track toward increasing your visibility, reach and direct bookings in 2023.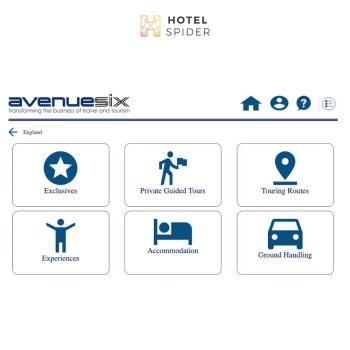 Map-based planning tools and route suggestions for travelers and accommodation seekers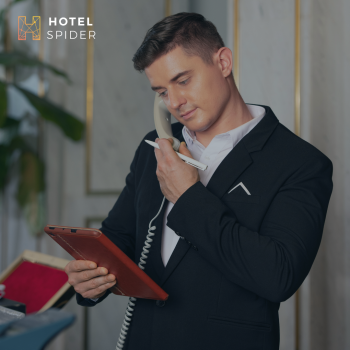 One of the key goals for any hotel is keeping capacity at an optimum level. When your rooms are filled with happy guests from one month to the next, it's a good sign that you're doing everything right and your business is thriving.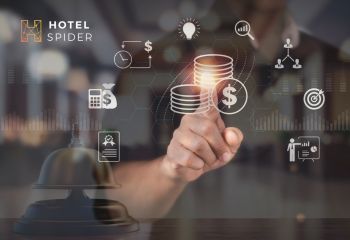 A data-driven, flexible revenue management strategy is indispensable, especially when there is uncertainty on the market and familiar demand patterns are suddenly turned upside down. Our experts explain what is important in these situations.