Customer service and expectations, especially in the hospitality industry, have changed significantly over time, with digital mediums enabling both customers and hoteliers to benefit.  
Customer service and expectations, especially in the hospitality industry, have changed significantly over time, with digital mediums enabling both customers and hoteliers to benefit.
The days of treating technology and related services as a luxury are over, as many hotels are now adopting technology in more than one way.
Here are 3 ways you can leverage technology to improvise and improve your hotel's direct booking features:
Create a Strategy for OTA & metasearch
Although direct booking is what most hotels prefer, not being listed with an OTA (Online Travel Agents) or a metasearch engine will be a significant revenue loss. This is because OTAs and metasearch engines are regularly used for comparing rates and booking hotels.
Now, one of the major challenges of connecting with a bunch of different platforms is the ability to manage and track them without much hassle. With Hotel-Spider, you get an easy-to-use, clean, and intuitive interface to monitor and manage different platforms.
The Central Reservation System is integrated with hundreds of different platforms that are well-suited for most hoteliers. Moreover, it has a clean and intuitive user interface which lets both tech-savvy users and laymen alike use the Hotel-Spider platform easily.
Now, before we delve into how to use such a platform effectively, it is essential to understand the function served by both metasearch engines and OTAs.
In simple terms, the key difference is:
Metasearch engine: While there is Google, many travelers will search and book hotels after comparing services and prices. Metasearch engines are these providers that enable users to reach and sift through hotel rates, availability, and compare services on various websites. Some of the most commonly used metasearch engines are Tripadvisor, Trivago, Expedia, Skyscanner, and Webjet, to name just a few.
OTA listing: Online Travel Agents are online distribution platforms for any hotel, allowing users to compare hotels and make their bookings directly from their platform. OTAs display and sell hotel rooms with information on rates, photos, and services, and provide special offers to the user. Some examples of OTAs are Booking.com, Agoda, Kayak, and MakeMyTrip, to name just a few.
Having a platform that lets you tap into the potential of both metasearch engines and OTAs is highly recommended to ensure you get the best of both worlds. While being present on multiple OTA listings helps customers use these platforms to book rooms at your hotel quickly, metasearch engines provide a single view of the user's various offers to help them choose the best option.
This not only helps hoteliers to amplify their online presence but also provides the customer the guarantee that they are getting the best offers and value for money at your establishment.
Go Digital with a Hotel Booking Engine
To drive direct booking revenue, an online booking engine helps your customers book at your hotel without ever visiting your hotel website. Surprised?
A booking engine is one of the primary elements of a hotel distribution platform. At Hotel-Spider, we help optimize your property's sales strategy and maximize bookings. It allows you to gain complete control over your property's website's design and strategy while providing a sleek and modern user experience to your customers. The booking engines can integrate with channel managers, and display your rates, and availability in real-time while also allowing guests to select their dates and finalize the booking.
This enables your hotel to provide mobile-friendly digital reservations without completely relying on third-party OTA platforms.
Reward Returning Customers with Loyalty Programs
Most importantly, you need a strategy to provide rewards and benefits to your loyal customers. Several establishments use the power of digital payments and other means to ensure customers booking directly from the website get the best services. You can explore options to provide multiple payment facilities and skip the card to provide online point systems.  
This helps the users understand the various benefits and features they can get and seamlessly use their loyalty points at your hotel. Guests look for direct benefits and perks when booking directly, so make sure you have a loyalty program to reward these customers and provide them the reliability and support that will have them trust you more than a third-party OTA platform.
Conclusion: Optimize Your Booking Process & Sales with a Hotel Distribution Platform
Managing a range of online booking tools, OTA platforms, metasearch engines, and direct booking requests is often intimidating and challenging. So, you need a centralized hotel distribution system that is continually communicating with each channel and updates information in real-time to ensure there are no booking errors. When you're choosing a hotel distribution software, make sure it has the means to keep track of all your properties and online listings within one platform.
Hotel Spider is a Swiss-born company that offers focused hospitality distribution and management solutions for hoteliers. With easy integration tools and flexible solutions, we cater to a wide range of hoteliers — from homestays to hotels, resorts, luxury villas, etc.
Hotel Spider also offers a cloud-hosted platform and intelligent machine learning solutions, which helps property owners streamline their property management and increase their revenue. To find out how Hotel Spider can help you improve your hotel distribution system or get a demo, please reach out to us.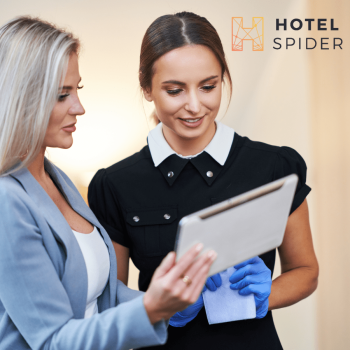 Hotel rate parity is the practice of maintaining consistent rates for the same product across all online distribution channels including brand website, global distribution, online travel agencies, and regional OTAs – regardless of Online Travel Agent (OTA) commission.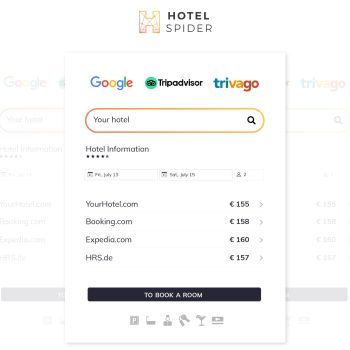 It's no longer a secret that meta search engines are gaining popularity amongst travelers. That said, how can you leverage this trend for your own hotel?
If you want to be able to better navigate the OTA jungle and find the best partners for your hotel, you've come to the right place. Learn how to find the right OTAs for your hotel and target group in three easy steps.