Find out what is behind the GDS, how to make optimal use of this sales tool, and which platforms offer you the most extensive reach.
GDS - you have probably come across this abbreviation many times before in the world of hotel sales.
But what does it stand for and what is its significance for your hotel?
GDS – a definition
GDS stands for Global Distribution System.
These platforms grant access to a wide range of providers offering various travel-related services. These include accommodation, flights, rental cars and much more.
Corporate customers in particular use GDS to negotiate special contracts with hotel partners for large room allotments. The GDS are therefore an important source of reservations for business travelers.
However, GDS are also relevant for the leisure business. Travel agencies in the leisure industry use these sales systems to market hotel rooms, travel extras, rental cars, flights and complete travel packages on a worldwide basis.
How the GDS operate:
As soon as your profile is activated on the GDS and is connected to your central reservations system (CRS), customers can begin to send GDS requests in the system and retrieve your live hotel data.
For example, if someone wants to book a three-day trip to London in early May, the travel manager or travel agency employee can retrieve data from the relevant hotel CRS for this destination, as well as for the specified time period via the GDS. They are therefore able to see which offers are available in real-time and present them to the customer.
Once the traveler selects one of the hotels, it can be booked directly via the GDS. The GDS immediately transfer the booking data to the hotel's CRS. If the Channel Manager or PMS is connected, this information flows directly onward and the room is removed from the inventory.
The advantages of using the GDS
The major advantage of being listed on the GDS is your increased reach among agencies and companies worldwide. This can increase bookings and occupancy rates and boost your sales. It also diversifies your booking sources and the guest segments you target. This makes you less dependent on a limited number of channels and allows you to manage demand fluctuations more effectively. GDS are also highly efficient. Once you have created your profile, you will instantly gain access to a wide range of new sales opportunities.

Important links for your GDS
It is extremely important to integrate your individual systems to ensure that everything runs smoothly when selling via GDS.
If possible, link the PMS, CRS and Channel Manager. This allows reservations to be automatically transferred, in real time, from the GDS to your PMS via the CRS and Channel Manager. Your inventory is updated immediately and no accidental overbookings will occur. This also saves time for your team, as it no longer needs to manually transfer reservations from the CRS to the PMS.
This data flow also applies when you amend prices, availabilities or conditions. These updates are automatically transferred by the PMS to the Channel Manager and the CRS. This ensures that the GDS are able to retrieve the most up-to-date information the next time a request is received.
A system such as Cvent or Lanyon is of additional importance when working with corporate clients. It enables you to access special rates for corporate clients and participate in RFP processes.
The current top GDS
With its current market share of 44%, Amadeus is currently the world's leading GDS. This provider is particularly popular in Europe. Sabre ranks second at just below 41 % and is predominantly used in North America. Travelport unifies Galileo, Worldspan and Apollo and ranks third with a market share of 21 %. Travelport covers numerous important markets worldwide with its three platforms. Well-positioned CRS providers such as Hotel-Spider provide interfaces with all top GDS. This enables you to establish a presence for your hotel on all of these channels.
This has covered GDS basics for hotels. If you would like to learn more about this subject, read this detailed article or learn how to specifically optimize the content on the GDS for conversions.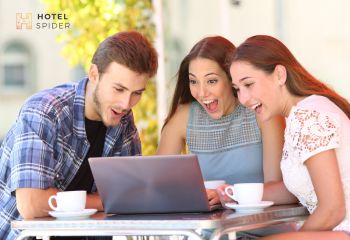 Discount and offers aim to increase your hotel reservations. However, if used incorrectly, they can damage your brand and even scare off guests. Here's how to avoid this and get the most out of promotions.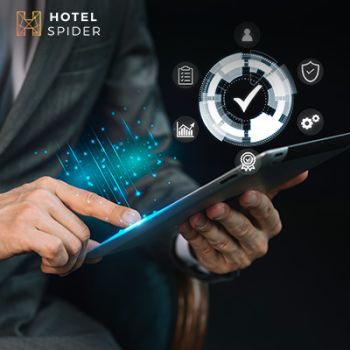 A Property Management System and an Online Distribution Platform — both essential tools for any hotel. If you're a hotel owner or manager, chances are you've heard of these tools mentioned once or twice.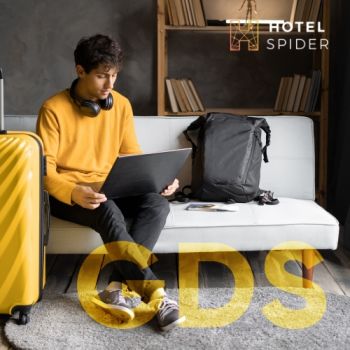 Reach more clients on a worldwide basis - this is the idea behind the use of GDS. For this to work, good content is crucial on these platforms.